Climb in, close up the bag and wait for the garbage truck!

Warning! - The images and story related texts are presented here on this website as a fantasy only and should in no way be replicated by anyone. Any attempt to reproduce any of the scenes presented here either in text or picture form could result in serious injury or death. Under NO circumstances should you attempt to copy or emulate the fantasy scenes shown on this website.
Latest Stories
327 Stories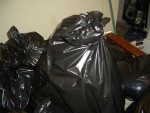 Trashbagging is where people love to enclose themselves; be enclosed or enclose someone else in plastic garbage bags (or several), they love the feel of the smooth, slippery plastic. Sometimes involving breath-play, others more into messy situations with food or garbage thrown in with them.
The fantasy may also involve being placed in a trashcan; garbage-bin or dumpster, to await their fate at the hands of the garbage truck...
Trashcan Stories - contains stories of people as garbage or their desire to become mere trash or used as trash, being enclosed in trash bags, stored, dumped or having trash thrown on them including messy play. The stories contain situations where people are objectified into garbage using bags, trashcans and dumpsters.